Benjamin Schwarcz, Certified Advanced EFT Tapping Practitioner, Performance Coach and Psychotherapist.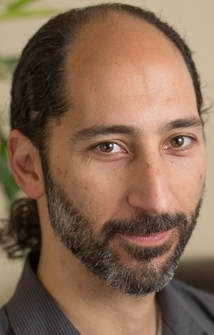 Performance Coaching is about shifting your consciousness - changing your life from the inside out. The world you see is a reflection of your mind, and when you get clear with yourself, life gets clear.
My life is guided by my search for truth and understanding. The purpose of my work with clients is the same as my purpose for my work on myself -- to serve and nurture the highest goodness in others and in myself. Helping my clients rise above their limitations and find their joy, passion, love for life and peace of mind is what gives me the greatest satisfaction in my work. For me it is hardly work at all. I get back as much as I give, and I learn as much as I teach.
I believe I have a gift as a therapist and coach - in my ability to listen with an open heart, without judgement; in my ability to intuitively get where my client's are stuck; and in my skillful use of Energy Psychology techniques such as EFT/ Tapping as a means of quickly getting to the deepest level of an issue and alleviating it.
My clients often tell me they are astonished by the profound relief they feel after a "tapping" session, and many times, people find that they have finally let go of painful issues, and old memories that had burdened them for years. Clients often come to me after many unsatisfactory attempts with other healing approaches and they often leave feeling optimistic, grateful, and amazed at the ease of their positive transformation.
I have worked as a mental health professional for over 25 years, (CA Lic#mfc35606), as a counselor, psychotherapist, wilderness guide, and life coach. In the past ten years, I have personally conducted over 7,000 EFT Tapping session with my clients. It is truly a privilege and a joy to help my clients to free themselves from their limitations and to see them find new states of joy and success in their lives.
Call or Email me to discuss the possibility of working together. I'd love to hear from you!
Call Today for a Free Introductory Phone Consultation: 707.326.5566
---
"I was a little nervous before meeting and tapping with Ben via Skype but it only took moments before Ben's peaceful, calming demeanor came through and I immediately relaxed. Ben made me feel comfortable and I had this strong feeling of ~this is exactly where I am supposed to be right now~

It amazed me how quickly Ben was able to intuitively know what areas I needed immediate help with and then guide me through exercises that helped me so very much. I am hopeful for the first time in a while. I feel so fortunate to have had such a positive experience and I would recommend Ben without hesitation."

- Lisa R. - Energy Coaching Client



Services provided via phone or Skype are for Coaching Only.





Areas of Expertise

Traumas (Emotional Traumas of every kind), PTSD, Phobias

Psychosomatic Problems and Pain
Peak Performance for Entrepreneurs and Professionals
Emotional Barriers to Success (fear of success, fear of failure, etc)
Procrastination and Self-Sabotage
Clarifying your Vision and Purpose
Creativity Blocks
Anxiety, Stress and Depression
Relationship Problems, Conflicts, Intimacy Fears, Communication Skills.
Integrating Spirituality into Daily Life and Work.


Background, education and experience:

Master's Degree in Transpersonal Counseling Psychology, John F. Kennedy University, 1995.
CA Licensed Marriage and Family Therapist since 1999 (lic#35606)
Clinical Member of the Association for Comprehensive Energy Psychology (ACEP).
ACAP-EFT. Certified Advanced Practitioner of Gold Standard EFT (endorsed by Gary Craig).
Clinical Supervisor and EFT Trainer for ACEP.
Private Psychotherapy and Coaching Practice since 2000.
Twenty-six years experience counseling clients of all ages and backgrounds.

Five years as a senior staff member at Alta Bates Medical Center's Psychiatric Department in Berkeley, CA. Mental Health Specialist for the adult, geriatric, dual diagnosis, and adolescent units from 1993-1999.

Music Therapy/Drumming Therapy with individuals and groups of all ages; Therapeutic drum circles for at-risk youth, emotionally disturbed children, adult cancer patients, community and team building for adults, since 1995.
Marin Suicide Prevention, Hotline Counselor, and Grief Counselor, 1996-1997.
Clinical Supervisor and Therapist for children with severe emotional and attachment disorders at Sunny Hills Children's Garden in Marin County, 1999-2000.
Completed extensive training and led desert trips as a wilderness vision quest guide with Rites of Passage, Inc. (Sonoma County, CA), from 1993-1998
Clinician on the in-patient psychiatric unit of Santa Rosa Memorial Hospital, 2002-2007.
Clinician on the Psychiatric Assessment Team of Santa Rosa Memorial Hospital 2002-2007.
Stress Management Coaching - Hero Talk Pathways to Thrive Certified Trainer for first responders, military and emergency service professionals.
I have conducted more than 5,000 EFT Tapping sessions with therapy and coaching clients over the past eight years.